I'm kind of a sucker for a Christmas book. I just can't get enough of them. Like all Christmas traditions, I think many of these books and illustrations will stick in kids' hearts and memories forever. Some of these books tell more than just the facts of the story, they tell the heart of the story.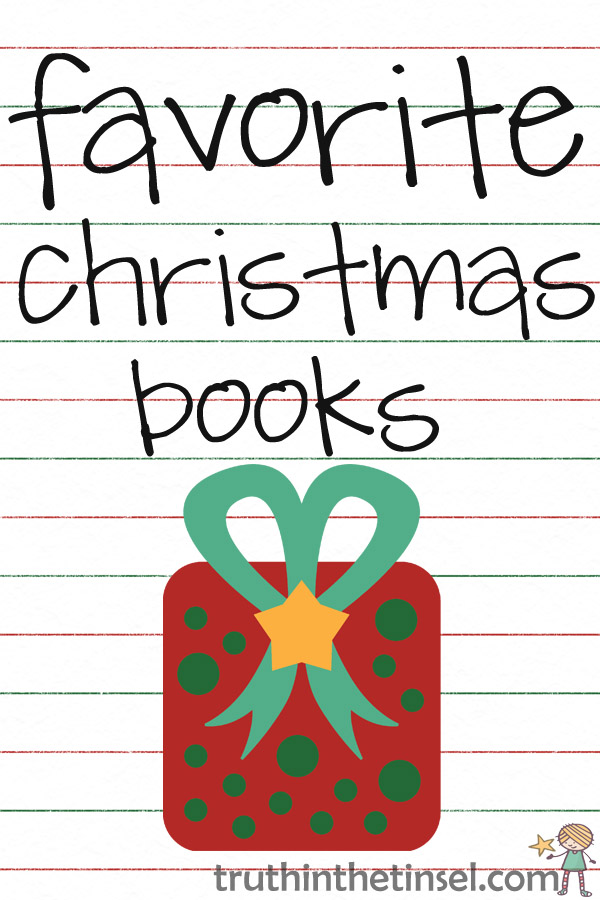 Here are some of my favorite Christmas books that I think showcase that heart and will enhance and supplement Truth in the Tinsel.
Ready? Let's go…
1. The Wonder of Christmas
by Dandi Daley Mackall
I. Love. This. Book. The pictures are of kids in a Christmas pageant. But the words are thoughts of a child, "I wonder what did Mary think…" and goes through each character. But the best part is the end when the words turn from questions to declarations like, "I will kneel like Mary, let my heart obey." It is so powerful.
Perfect for Truth in the Tinsel days  4, 5, 9, 18, 19, 22
2. A Christmas Goodnight
by Nola Buck

I bought this book because the illustrator is Sarah Jane, whom I have loved for years. The book is kind of a Goodnight Moon-type of book. A little boy says goodnight to the characters of the Christmas story. You discover halfway through that he's actually playing with his nativity scene. It's super sweet!
Perfect for Truth in the Tinsel days 5, 9, 14, 15, 18, 19, 21, 22
3. Song of the Stars: A Christmas Story
This book was written by Sally Lloyd Jones, author of The Jesus Storybook Bible. It's such a gorgeous book filled with important phrases like "Might King", "Prince of Peace", "Bright and Morning Star", "Good Shepherd", "Light to light up the whole world", "Rescuer" and Emmanuel.
Perfect for Truth in the Tinsel days 2 and 11.
4. Who Is Coming to Our House?
by Joseph Slate

The animals in the stable get ready for someone coming to their house. It perfectly displays the idea of making room for Jesus in your home and heart.
Perfect for Truth in the Tinsel day 14.
5. A Star for Jesus
by Crystal Bowman

This is part of a series of board books that showcase symbols of Christmas (Christmas tree, candy cane, angels, stocking, gifts) and give them Jesus-centered meanings. This one focuses on the Wise Men and the star's meaning. It's perfect for the preschool crowd.
Perfect for Truth in the Tinsel day 21
6. The Tale of Three Trees by Angela Elwell Hunt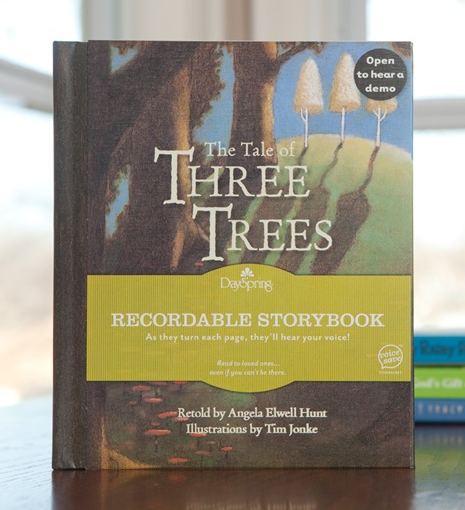 This book is the only book I actually suggest reading in one of the "Do More Together" sections (day 15, the manger). I've read this one to the kids already this year and as usual, it made me cry. It's the story of three trees with big dreams–one to become a treasure chest, one to be a king's ship and the other to point to God. Their prayers are answered in different ways than they think–the first tree becomes the manger and holds the greatest treasure of all, the second tree becomes a fishing boat and carries the King of all Kings while the third becomes a cross that will always cause people to think of the living God.
As this is a traditional fable, you can find several versions of this book. I am partial to this recordable storybook by Angela Elwell Hunt (one of my favorite authors). You can record your voice and then your kids can hear you read it to them on their own. I so love this idea for a long-distance relative!
What's your favorite Christmas book?