It's been one year since I launched Truth in the Tinsel. Last year on Black Friday I nervously let people buy a book I hoped was good enough to grace their Christmas celebration.
In just under 7 days, 4700 copies of Truth in the Tinsel had been sold. By Christmas Day, 6300. Today over 10,000 copies are on family's computers, iPads and printed on paper ready to lead parents and kids into an experience with Jesus this Christmas. It absolutely puts tears in my eyes, flattens my hearts and makes my knees knock in thanksgiving to God.
It's a mystery to me how God can take a little idea and make it into something bigger than itself. How God can take a little person and give them a voice bigger and louder than they knew. Somehow, God has allowed the little tradition I started with my own daughter to encourage families to find their best gift of all, Jesus!
This Black Friday 2012, I've got a little gift for you, too. If you purchase Truth in the Tinsel: An Advent Experience for Little Hands you'll get the new printable ornaments for FREE (regularly $3.99).
It's simple:
1. Buy the ebook for $7.99.
2. DO NOT add the printable ornaments to your cart. (If you do, you'll have to pay for them.)
3. Click link on download page (after purchase) to get your free printable ornaments. Look, I even made a screenshot for you!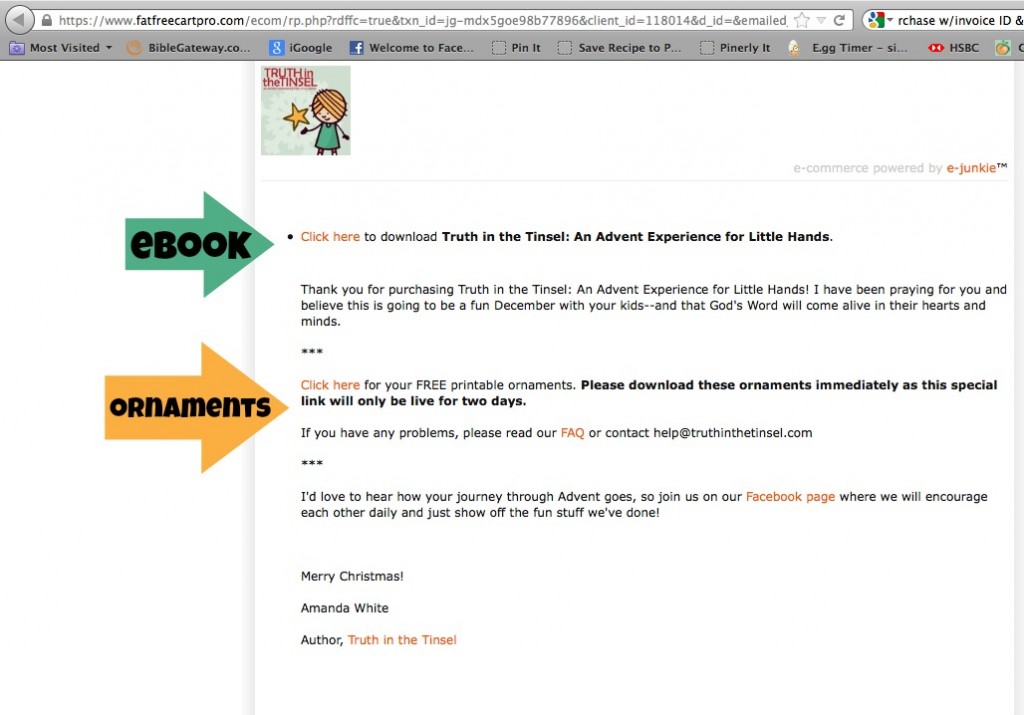 4. Get ready–we begin Truth in the Tinsel on December 1st! Update pictures of your kids' ornaments and fun conversations you've had on our Facebook page. We'll get to encourage one another and do this advent-ure together!

Additional Black Friday Sale Details:
Sale begins Friday 12:01am EST and ends Friday at midnight EST.
If you add the printable ornaments to your cart, the price will not be refunded.
Additional coupon codes are not valid today only.
If purchased separately, the ebook and printable ornaments are regular price.