It's time!
If you're in or around Atlanta and want to come to my Truth in the Tinsel Swap Party you can sign up NOW!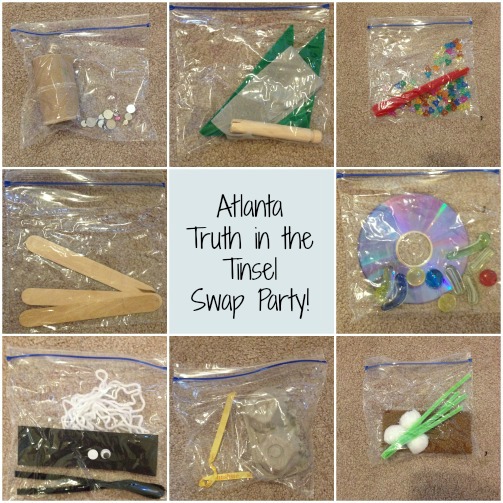 But first, a few things you should know…
1. The party is on Sunday, October 12 at 5:30pm. It will be held at Mount Paran North, 1700 Allgood Road Marietta GA.
2. There is a $10 registration/I-promise-I'll-be-there/help cover a few things donation/fee. There are only 50 spots available right now, so sign up as soon as you can!
3. In order to attend, you must sign up to bring craft supplies for 22 children. Each available party slot is a craft. For example, you may sign up for "Day 1 – Candle" and bring all the supplies for 22 kids to complete the candle craft.
4. You must sign up per child. If you have 3 children, sign up for 3 craft slots. Basically, you walk in with supplies for 3 kids, you walk out with supplies for 3 kids.
5. Childcare is provided. $5 per kid. You'll see a prompt for signing up on the registration form.
6. Some crafts require many supplies and others only a few. As you prep each bag, make sure you have the appropriate size and amount of every supply. You may need to make one craft just to help you know how to pack it. (For example, how much yarn will be needed to make those crazy sheep?!)
7. Some crafts require weird supplies. Sorry! If you're looking for small jars, or lots of old CDs or some other random thing you can't find (or can't find for cheap), get creative! Go to thrift stores, ask your Facebook friends to look around their house, scour Craigslist. It's ok if supplies are used, I'm all about recycling. But please do your best to keep the supplies as close to the ebook as possible. It might look like an easy switcheroo substitute to you, but maybe not to the mama who's taking your craft home and won't open it for two months.
8.  It's going to be LOTS OF FUN! I've got some special surprises in store for you. I want you to expect a Girl's Night Out, not a work night! (And yes, that means food will be served!)
9. I AM GOING TO BE THERE! That's right! I get to meet you! My little heart is so excited to meet mamas who love and have experienced Truth in the Tinsel like I have! If this weren't an ebook, I'd do a book signing. I mean, not that you want my autograph. I'm just saying, I'm super excited to meet all of you. *blush*
10. And yes, we'll be playing Christmas music. *grin*
If you're still a little confused, here's a quick video of you walking me through the sign-up process:
Ready? SIGN UP HERE!