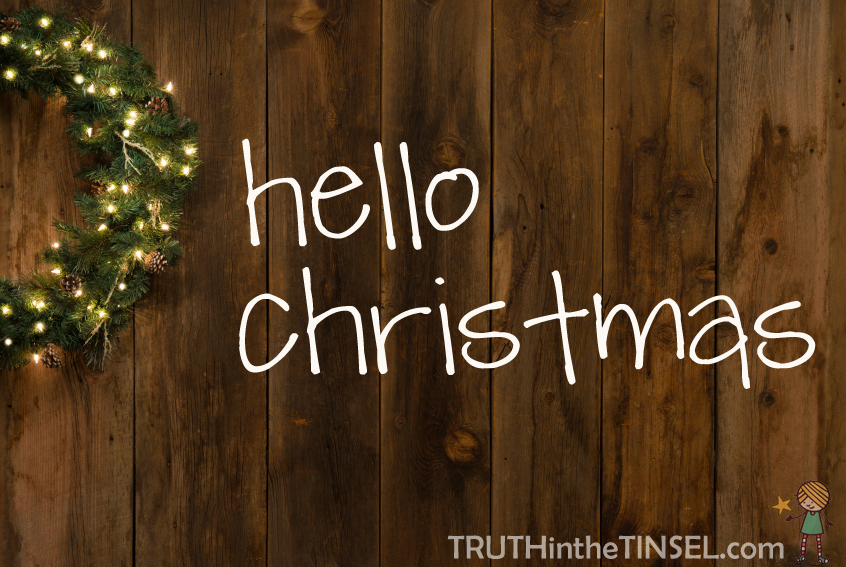 Hello cold weather.
Hello we-need-to-send-out-Christmas-cards.
Hello Christmas carols.
Hello red cups of coffee.
Hello baking cookies.
Hello ornaments.
Hello frost.
Hello Christmas.
Hello Jesus!
It's here! The second Halloween was over, Christmas seemed to hit. Stores and television are already jumping on the Christmas train and while I get tired of the over commercialization of Christmas–I can't help but be excited about it all, too!
I love that our culture turns its eyes to the celebration of Jesus' birthday for such a long time! I know, I know, it's not all about Jesus' birth. In fact, it seems to be covered up more and more every year. But as Christians, as parents who want our kids to know the true meaning of these bright and shiny Christmas celebrations, we can make this season point to Jesus. We can choose to lead our kids to Jesus!
If you're new to Truth in the Tinsel, I hope you'll stick around the blog and our Facebook page. We have lots of tutorials, fun ideas and encouragement to help you make this the year your kids recognize Jesus as the best gift of all!
Merry Christmas! And Happy Truth in the Tinsel.

And if you haven't snagged your copy of Truth in the Tinsel, you might wanna do that now…

 So, what's your favorite part of the season to say HELLO to?